At God's Battalion of Prayer Church our purpose is to provide Living Water to the dry and thirsty individual. Do you ever feel like this is your relationship with the Lord? Thirsty for more of Him, and eager to drink deeply from His Word? The Psalmist David in Psalms 42: 1-2 says: "as the deer pants for the water brooks, so pants my soul for YOU, O God. My soul thirsts for God, for the living God. When shall I come and appear before God?" In John 7:37-38, Jesus says, "If anyone thirsts, let Him come to Me and drink. He who believes in Me, as the Scripture has said, out of his heart will flow rivers of living water."
So, if you are thirsty today, We encourage you to go to Him and drink. Let His Holy Spirit bathe and refresh your weary soul. He will fill you to the overflowing. For He says, out of your innermost being will flow rivers of living water.
But we encourage you to stop by our church; our exciting programs throughout the year will give you vital prophetic revelation from God's Word.
If you've just moved into this area – now is the time to take a break and get out of the house. Our hospitality committee is ready to receive you with a welcoming smile as well as either breakfast or lunch.
Do you ever wonder if your family will find the right friends? Come on over, our fellowship committee will embrace your family and direct them to the various departments that are suitable to their ages.
So, come on then, you'll feel right at home at – God's Battalion of Prayer Church.
Our doors are open and our hearts and hands are outstretched to give you a welcoming embrace.
We love you and are excitedly looking forward to seeing you.
Sincerely,
Rev. Dr. Alfred S. Cockfield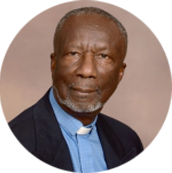 "Our Mission"
(Why we exist)
Our mission is to transform the community by helping its members to grow in faith, fellowship, character, commitment, missions, and ministry.
"Our Vision"
Global evangelism and discipleship. (Matt. 28:19-20)
"Core Values"
As a church, the following are the values we hold which form the foundation for what we do; whose we are; and how we conduct ourselves.